Christine and Thierry will be delighted to host you in in their pleasant home.
Please look up the calendar for each room's availability and book directly filling in the application form. You can also email us or call us for further information.
A 30% deposit will be asked on booking.
-Breakfast included.
Room "Le Pressoir" : € 80,00 per night-"Le Pressoir" room is separated from the main building and has a terrace of its own.
-A double-bedded room (1,60×2,00m) with a bathroom.
Room "La Mansarde" : € 75,00 per night
– "La Mansarde" is situated in the main building.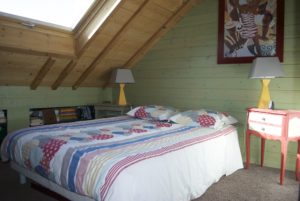 -A double-bedded room (1,40×2,00m) with a separate bathroom.
-Extra bedding for one or two can be arranged in the Mezzanine at a cost of € 15,00 per person;